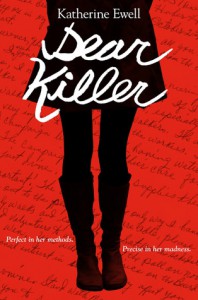 **MAJOR SPOILERS AHEAD**
3.5/5
OVERALL IMPRESSION: I'm intrigued by the plot. It's a really strange and twisted situation, which makes for good reading in my eyes.
I did not like the ending at all. For me, a perfect ending would have been Kit killing Alex and getting away with everything. And that being her last murder, she moves with her mom and starts over with a normal life, with nobody ever finding out. I feel like Kit giving herself up at the end goes against her personality and is not something that she would choose to do.
CHARACTERS: I liked Maggie a lot, so it was kind of hard for me reading this knowing that Kit was planning on killing her. I was kind of hoping that she would change her mind, but I also knew if she did change her mind that would go against everything she has ever known and the rules that keep her in line.
COVER: The cover is okay. I like the script in the background that looks like it could be one of the letters she receives.
**I received an ARC of this book from Amazon Vine for my honest review.